RARE TROPICAL RESORT ON 5772m2 (1.5 ACRES)
The main house – large and in the Bali style – is complemented by 2 Balinese ?bales?, separate luxurious and air-conditioned guest suites.
There are 4 bedrooms in the main house. The master with ensuite adjoins a large parent?s retreat. The second bedroom is also spacious and opens onto a private part of the back deck. The 4th bedroom and the parents? retreat could both be converted into a home office. In addition to the ensuite, there is a large bathroom and a 3rd shower and 3rd toilet.
The expansive lounge/dining area is entered from the front via a small portico. The area overlooks garden greenery, tennis court, the bales and an intimate garden with delicate water features. This comfortable room has a marble floor, exposed beams, soaring ceilings and a large brick fireplace. The large adjoining kitchen, partially screened, has a ceramic cooktop, beaten copper rangehood and separate oven. It looks out through large windows to a formal sandstone fountain with submerged lighting and a sculpture of Buddha.
Also adjacent to the living area is a large room with concertina doors that
can be used as a rumpus, children?s play area, billiard room or for
entertaining. It has access to a separate shower and toilet. The house and both bales are wired for broadband and cable TV.
From the 1st bale, surrounded by swaying palms, you can step into the pool. It features large living and sleeping areas, limited kitchen facilities and its own bathroom. It extends the Balinese ambience with warm natural timbers, antique carved timber doors and an Asian-style tiled roof.
The dramatically thatched 2nd bale by the tennis court is 2 connected buildings. The single storey bathroom is linked to a 2-storey retreat with purpose-built furniture (including a lounge/king bed and a marble-topped table which come with the sale) and a kitchenette. The open upper area has 360 degree views overlooking rainforest and a plank bridge over a stream. It is an ideal retreat, guest?s hideaway or entertaining and dining area.
Approximately 5500sqm of grounds accommodate a home, 2 bales, tennis court with shed, just-renovated 50000 l pool, spectacular rainforest with over 25 species of palm, eucalypt forest, pond, carved frog fountain, other water features and carved stone lanterns. In addition, there is a large paved entertaining area, double remote garage, shed, storage areas and a security system for the house and each bale. This desirable property, with a character all its own, has shops and amenities all within easy reach.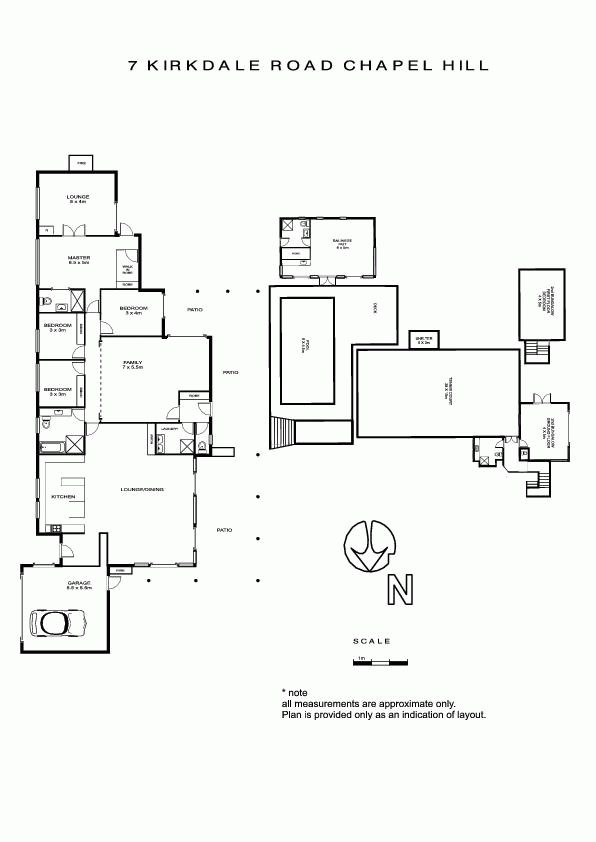 Floor plan